Colony by Casa Luiza represents Colony Roma alongside a carefully selected collection of international interior brands.

Colony Roma has been at the heart of the business for many years, having been in the same London showroom headed by Luiza Marra since 1997 and one of the first fabric houses to set up home in the Chelsea Harbour Design Centre.

The Colony by Casa Luiza showroom offers fabrics, wallcovering, trimmings and other high calibre interior products which strongly compliment the Colony Roma collections, as well as Luiza's own interior brand 'Casa Luiza'.

About Colony Roma Fabrics & Wallcoverings
Colony Roma has been represented in the UK by Luiza Marra through her London showroom Colony by Casa Luiza (formerly Colony UK) since 2015. Prior to this Luiza headed up Colony Roma's UK business for 15 years.

Founded in Rome in 1976 by Sandro Roscioli, Colony Roma is now led by Sandro's son Gabriele. Colony is known for the stand-out refinement of its yarns and the timeless elegance of its fabrics.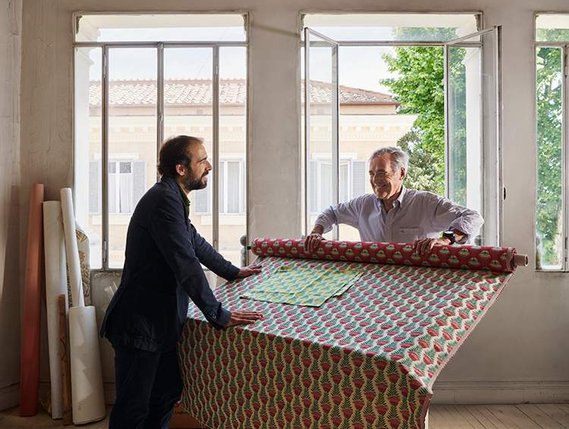 Designed and produced in Italy
Conceived and produced in Italy, Colony Roma's products are made by the best Italian weavers and printers, giving origin to fabrics and wallpapers entirely conceived and produced in Italy.
In the historic atelier in Piazza del Popolo, Colony's lampas, silks, brocades, and velvets are created; the result of a contemporary reinterpretation of decorative motifs characteristic of the French, Venetian, Piedmontese and Oriental traditions.
Signature approach
Colony's patterns are all designed in-house, transformed into upholstery fabrics and wallpapers from hand-painted watercolors. They embody an approach to home decor that has always characterised the brand: giving new life to tradition, reinterpreting styles from the past through current taste, and combining them with wide-ranging and original color proposals.
Natural elements, geometric patterns and compositions belonging to different historical periods are revived through unexpected colors and combinations. This signature approach makes Colony Roma's world the protagonist of the most beautiful houses in the world. From classic to contemporary interiors and iconic settings such as the Oval Office of the White House, as well as in productions such as Sofia Coppola's famous film Marie Antoinette or the Netflix hit series Inventing Anna.